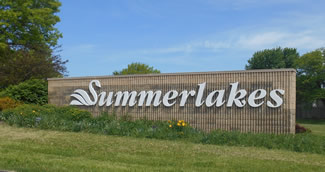 Welcome to the official Web Site for Summerlakes Homeowners' Association. This web site was created to offer the residents easy access information about this great community. The site will be updated frequently so please visit here often to get the latest updates.
At last month's Board meeting we discussed re-opening our facilities. This is a much more involved process than just opening the doors and letting residents enter. Even though restrictions have eased in the last few weeks we will need to comply with Health Department guidelines, which can and do change with little notice. We are limited by the need to monitor users to make certain that distancing and sanitation requirements are being met which required getting air purifiers and arranging for personnel to schedule and monitor these re-opened activities.
One of the first activities that we are re-opening is the Exercise Room. We drew up plans to do this but at this time it can be done only on a limited basis beginning April 13th. The guidelines below will be strictly adhered to, and depending on how these policies work, may be changed with very little notice. As restrictions from the State and County Health Departments change (hopefully ease) we will alter these guidelines accordingly.
EXERCISE ROOM USAGE GUIDELINES:
1. All exercise sessions must be reserved in advance by calling the Clubhouse at 630-393-3033 and speaking with desk personnel - leaving a message is not sufficient.
2. Hours are: 9am to 12pm and 4pm to 7pm on Tuesdays, Thursdays and Saturdays only.
3. Use is limited to one hour only per session this includes sign in prior to use and cleaning equipment used post use.
4. Users are to thoroughly clean equipment after use; this is part of the hour allocated. Non compliance can result in being denied future reservations.
5. Only one session per week may be reserved in advance.
6. Only three (3) users will be allowed in exercise room at one time.
7. A waiver holding SHA harmless in the event of COVID infection must be signed by each user.
8. Only adults 18 years and older will be allowed in exercise room.
9. Masks must be properly worn at all times.
If there are open slots available they may be reserved during that session (ie either AM or PM). The 9am session may be scheduled after 6pm the previous session. That is after 6pm on Tuesday for open Thursday 9am session; after 6pm Thursday for Saturday 9am and after 6pm Saturday for 9am Tuesday. This is because there is currently no desk service on Mondays, Wednesdays, Fridays or Sundays.
We very much look forward to the day when we can go back to pre-COVID conditions and will ease these restrictions as conditions and our staff availability improve.
Thank you for your continued patience and cooperation.
The City's contract with Waste Management expires on April 30, 2021. The City requested proposals for both a sticker program like what is in place now, and a cart-service option for unlimited garbage and recycling. Four proposals were received, but none included a sticker program that matches what is in place today. Three of the four companies offered a sticker-based program with a flat monthly fee on top of the sticker pricing. Based on the evaluation of all the proposals received, the City Council has approved a contract for the cart-based service offered through Groot, Inc., effective May 1.
Here's how it will work:
Each household will receive one garbage cart and one recycling cart from Groot to be used beginning May 1. The default cart size for garbage and recycling is 65-gallon. Residents can select 95-gallon carts if they choose. Residents who currently rent a 95-gallon cart will automatically be given a new 95-gallon cart, with no contact necessary. Seniors 65 and over are eligible for a 35-gallon cart at a reduced monthly rate. Contact Groot, Inc. at This email address is being protected from spambots. You need JavaScript enabled to view it. by April 1, if you prefer a 95-gallon cart for refuse or recycling, or to verify senior status for a 35-gallon cart and reduced rate. Carts will be delivered in late April. Residents will pay a flat monthly rate for cart service, which includes both garbage and recycling, billed quarterly directly through Groot. Any garbage or recycling that does not fit in the Groot cart can be collected in bins or containers set out next to the Groot carts. There is no additional charge for garbage or recycling in excess of what can fit in the cart. Yard waste is accepted from April 1 through December 15, by either affixing a yard waste sticker or enrolling in a subscription cart service for yard waste, which will also include food scraps. The rates for the first year are listed in the table below:
Service Type Rate
95-gallon cart (unlimited) $15.49/month
65-gallon cart (unlimited) $15.49/month
35-gallon cart (seniors only) $11.50/month
Yard-Waste $2.75/sticker OR $185/per season (subscription service)
Bulk Item First Item Free; Additional items require 5 yard waste stickers
More information about rates and a sticker buy-back program will be distributed in the April newsletter as well as on City social media sites. See www.warrenville.il.us/427/Garbage-Recycling-Yard-Waste for more details.