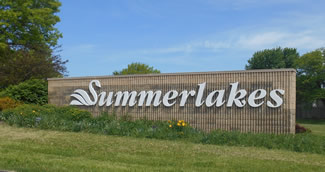 Welcome to the official Web Site for Summerlakes Homeowners' Association. This web site was created to offer the residents easy access information about this great community. The site will be updated frequently so please visit here often to get the latest updates.
Beginning October 1st through Memorial Day, May 27th, the Summerlakes Clubhouse will be OPEN as follows:
Monday - Friday, 11:00 am to 7:00 pm
Saturday-Sunday, 11:00 am to 5:00 pm
It's time again for the
ANNUAL HOLIDAY LIGHT DECORATING CONTEST!
All homeowners are invited to participate.
The Three (3) "Best Decorated Homes" in the area will be chosen,
and each winner will be awarded a $100.00 cash prize.
Call the Clubhouse to sign up. You must be registered by 5:00 p.m. on Saturday, December 16th.
Judging will take place on Sunday evening, December 17th, so be sure your lights are turned on!
Winners will be notified on Monday, December 18th.
Everyone is encouraged to join in the fun!
630-393-3033