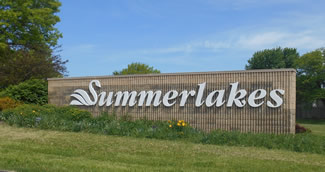 Welcome to the official Web Site for Summerlakes Homeowners' Association. This web site was created to offer the residents easy access information about this great community. The site will be updated frequently so please visit here often to get the latest updates.
The pool is open daily from
11:00 am to 8:00 pm.
(weather permitting)
Please take a few minutes to read over the pool rules posted in the clubhouse, at the pool, and on this website under SHA Amenities. For everyone's safety we must remember these rules and listen and show respect to the lifeguards and front desk personnel, as well as others attending the pool. Please be respectful and clean up after your messes in the patio area and locker rooms. Anyone not complying with these guidelines will be asked to leave the premises.
All residents will be required to have their Summerlakes ID, and must be current with their monthly assessments to use the facilities, no exceptions. Guests must also have some form of ID before entering the clubhouse/pool.
GUEST FEES
$5.00 ages 11 and older
$2.00 ages 5-10
Under age 5 is free