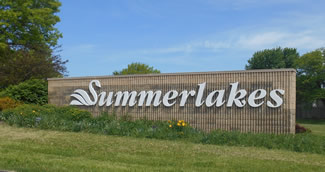 Welcome to the official Web Site for Summerlakes Homeowners' Association. This web site was created to offer the residents easy access information about this great community. The site will be updated frequently so please visit here often to get the latest updates.
¨ We are looking forward to having the pool open this summer. As we are now into Phase 5 of Covid, there will still be some minor restrictions from the DuPage County Health Department that will need to be followed. As we slowly begin to re-open, and for the health and safety of our patrons and staff, the hours and usage guidelines are as follows:
¨ Pool Hours will be 11:00 am to 7:00 pm. We will be open every day, weather permitting and staffing availability. The air temp. must be at least 70 degrees.
¨ Each family will need to sign a Covid waiver.
¨ Pool capacity will be limited to 100 swimmers. Homeowners (adults) may bring in up to five (5) paid guests: Residents 11 years to 18 years of age may bring in one (1) paid guest.
¨ Masks will be required while inside the building only.
¨ Social distancing should be practiced on pool deck.
¨ Tables and chairs will be disinfected on a regular basis. Bringing your own disinfectant wipes is recommended.
¨ There will be no locker room usage at this time other than walking through to the pool and using the bathroom. All personal items will need to be carried with the owner at all times.
¨ The Kiddie Pool will be CLOSED. (Due to Covid restrictions & needed repairs)
¨ As is usual, homeowners must be current with assessments before they can use the facility.
¨ As vaccination rates have increased and infection numbers have declined, Illinois has entered this fifth and final phase of RESTORE ILLINOIS. Please be patient, as these guidelines are for current use, and subject to change as monitored by the State of Illinois.
Once the pool is open the Clubhouse hours will follow the same hours, 11:00 am-7:00 pm.
Resources:
www.cdc.gov/coronavirus/2019-ncov/communication/guidance.html https://www.cdc.gov
www.dupagehealth.org IDPH | Protecting health, improving lives. (illinois.gov)